Unofficial Evidence
Edit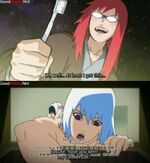 In the omake after episode 161, after Suigetsu interrupts Karin's moment of trying to seduce Sasuke in the hotsprings, Karin mistakenly takes Suigetsu's toothbrush where she had thought it was Sasuke's.
Video GamesEdit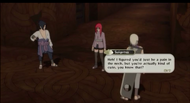 In Naruto Shippuden Ultimate Ninja Storm 2, Sasuke and Suigetsu were shown going to one of Orochimaru's prison in order to recruit Karin for their team. After the recruitment, Suigetsu comments to Karin, despite she being a pain in the neck, she was also kind of cute.
Ad blocker interference detected!
Wikia is a free-to-use site that makes money from advertising. We have a modified experience for viewers using ad blockers

Wikia is not accessible if you've made further modifications. Remove the custom ad blocker rule(s) and the page will load as expected.