The Couple
Edit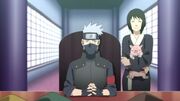 KakaShizu (Japanese カカシズ KakaShizu) is the term used to refer to the romantic relationship between Kakashi Hatake and Shizune.
Their Relationship
Edit
Blank Period ArcEdit
The Last: Naruto the Movie
Edit
None
Among the Fans
Edit
KakaShizu is a somewhat of a popular pairing in the Naruto Fandom. Many people support it due to Shizune's respect for Kakashi. The pairing had increased in popularity ever since the reason of Rin's death was revealed. It's a rival pairing towards KakaRin.