The Couple
Edit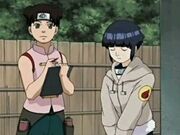 HinaTen (ヒナテン) is the term used to refer the romantic relationship of Hinata Hyuga and Tenten.
Their Relationship
Edit
During the Invasion of Pain Arc, when Hinata was getting healed by Sakura, it was shown that Tenten had been worried and had stayed with them to make sure that she was okay.
None.
Among the Fans
Edit
HinaTen is a slightly popular yuri pairing. It could be due to the fact on how they look together and possibly on how their japanese voice actresses have sang many times together. Their rival pairings are NaruHina, NejiHina, NejiTen, and LeeTen.
Hinata's Japanese voice actress, Nana Mizuki, and Tenten's Japanese voice actress, Yukari Tamura, are both singers and have sang together on stage.
External Links
Edit
HinaTen on Tumblr: http://www.tumblr.com/tagged/hinaten
Ad blocker interference detected!
Wikia is a free-to-use site that makes money from advertising. We have a modified experience for viewers using ad blockers

Wikia is not accessible if you've made further modifications. Remove the custom ad blocker rule(s) and the page will load as expected.